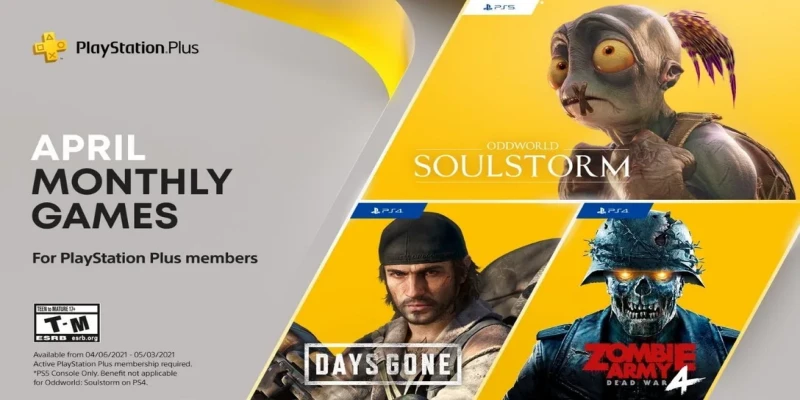 What a streak!
Sony continues with the streak of great incoming games, more accurately Sony announced the games they are going to offer to the PS Plus subscribers including PS4 along with PS5!
The owners of PS4 will receive:
Days Gone

Do you have the skill – and nerve – to survive the horrors of a broken world in this massive open-world action adventure?
Step into the dirt flecked shoes of former outlaw biker Deacon St. John, a bounty hunter trying to find a reason to live in a land surrounded by death. Scavenge through abandoned settlements for equipment to craft valuable items and weapons, or take your chances with other survivors trying to eke out a living through fair trade… or more violent means.
With humanity devastated by a global pandemic and ravaged by feral creatures known as Freakers, any mistake could be your last in your attempt to carve out a new life in the hostile Pacific Northwest high-desert.
Zombie Army 4: Dead War

Hitler's hordes are back for more in this spine-chilling shooter from the makers of Sniper Elite 4! Abominable occult enemies, epic weapons and a harrowing new campaign for 1-4 players await in 1940s Europe, as you fight to save humankind from undead Armageddon!
The rare and proud owners of PS5 will receive
Oddworld: Soulstorm (and personal favorite, highly recommended)

Witness Abe's horrifying conflict with a terrifying new machination.
A fresh narrative - a complete story retake inspired by our original tale.
A big visual and cinematic leap aiming to break new ground for Oddworld.
Intelligent new mechanics, twisted new devices enabling highly explosive deviousness.
A dark parable that tells an epic tale of a volatile society pushed to its limits.
Witch is a day one game since it's debuting on the PS Plus service.
Be aware fellow gamers
The games of PS4 will be playable on PS5 also through the Backwards Compatibility feature of the console. The games will be available since April 6th
Until next time guys